Onsite Managing Millennials Training Program: Leading the Modern Day Workforce
We provide keys to helping leaders maximize the contribution of their teams.
Managing Millennials Training Program Overview
For the first time ever organizations having to learn how to oversee 4 different generations, which includes managing Millennials, Traditionalists, Baby Boomers and Gen X'ers. With both traditionalists and baby boomers living as well as staying in the workforce longer than ever before, it's a tough spot to be in if you don't understand how to change your approach to leading a multi-generational organization.
It's critical to understand each of the generations view of what many are calling "The Big Six".
Their "Purpose"
Personal "Development"
How we "Coach" them
"Conversations"
The "Strengths" they possess
How they see and live "Life" itself.
By taking steps now to understand and meet the needs of the four generations we can set our organizations up for success. We need to make this move now for two reasons:
They currently make up the largest segment of our workforce, and will continue to grow each year.
The next generation is waiting in the wings. Some call them "Gen Z", others call them Post. While the name is debatable, what is not, is that they are coming… and soon.
Think about that. Some organizations conceivably may have as many as 5 generations all working side by side. Our future is going to be a wild ride!
Managing Millennials Training Objectives
Understand the influences of each generation and common generational motivations

The cause of conflict and the preferred learning environment of each group

The needed change from the leadership of the past to the leadership of the future

How Millennials feel about:

Their paychecks
Job satisfaction
Their bosses
Performance appraisals
Strengths and weaknesses
Their job and their life

Understanding Millennials as employees, people and their economic impact

Engagement of Millennials

Why Millennials leave

What attracts and keeps Millennials in the workplace

What qualities Millennials are looking for in a manager and a management team

Understand what Millennials are look for in learning and development opportunities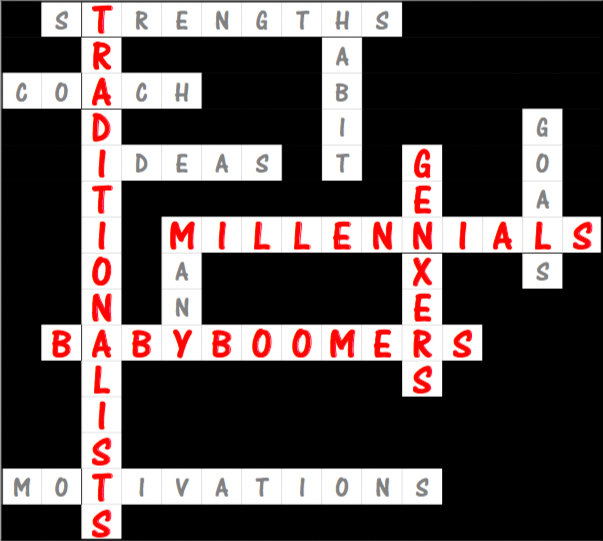 Training Delivery
1 Day Class
All TDA courses are client-specific and rely heavily on experiential learning including exercises, activities, roleplaying and continuous feedback.